Dear valued customers:
As the SARS-CoV-2 pandemic progresses, new mutations and variants of the virus continue to emerge, which is not atypical. Currently, the focus is on a variant from England and South Africa with potentially increased infectivity, and the question is whether rapid antigen tests can also detect this mutation.
According to our investigation, several site mutations have occurred of the spike protein at positions of N501Y, E484K, K417N for SA mutant strain 501Y.V2, and of N501Y, P681H, 69-70 for UK mutant strain b.1.1.7 (From Guangdong Provincial Center for Disease Control and Prevention). Since the recognition site of the raw materials used in our antigen test are the nucleocapsid protein different from mutation sites, This protein is located on the surface of the virus and is required for the virus to enter the host cell.
However, the Testsealabs COVID-19 Antigen Rapid Test tests another protein of the virus, the so-called nucleocapsid protein, which is located inside the virus and is not changed by the mutation. Thus, according to the current state of science, this variant can also be detected by the Testsealabs COVID-19 Antigen Rapid Test.
Meanwhile, we will promptly communicate any updates regarding SARS-CoV-2 Antigen Rapid Test Kit. In addition, we will continue our efforts to comply with high quality management standards and to maintains a consistent high quality management system to ensure customer's satisfaction and product safety. If you have any questions, please contact our sales representative.
Hangzhou Testsea Biotechnology Co.,Ltd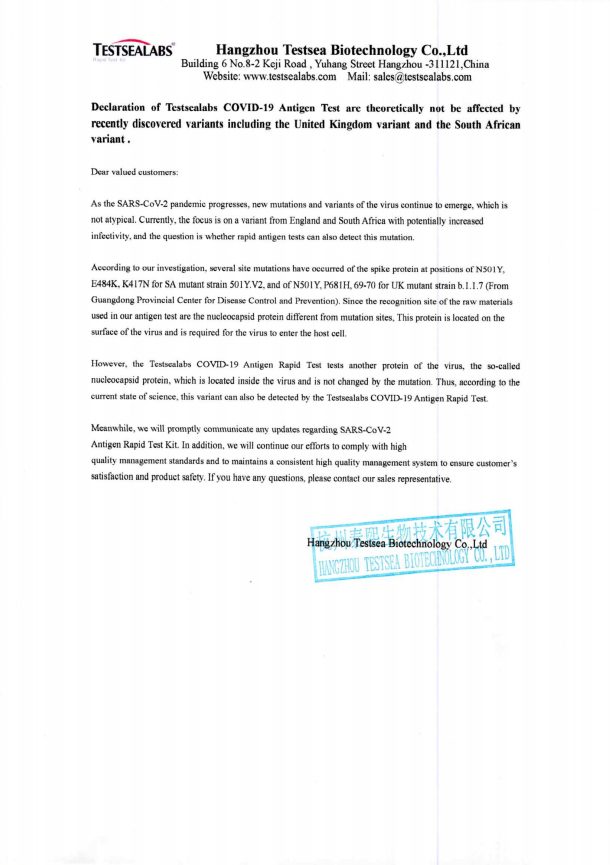 ---
Post time: Jan-21-2021