One Step Amphetmine Drug Abuse Test AMP Urine Drug Detection Toxicology Urine screen
Product Detail
Product Tags
Materials Provided with AMP drug Rapid Test kit
1. AMP Test Device (strip/cassette/dipcard format)
Test zone: contains Amphetamine bovine protein antigen conjugates
Control zone: contains Goat anti-mouse IgG antibody
Conjugate pad: contains mouse monoclonal anti-Amphetamine.
2. Instructions for use
Materials required, not Provided
1. Urine collection container
2. Timer or clock
Storage Conditions And Shelf Life
1.Store as packaged in the sealed pouch at room temperature (2-30℃ or 36-86℉). The kit is stable within the expiration date printed on the labeling.
2.Once open the pouch, the test should be used within one hour. Prolonged exposure to hot and humid environment will cause product deterioration.
1.Allow the test and urine samples to equilibrate to room temperature (15-30℃or 59-86℉) prior to testing.
2.Remove the test cassette from the sealed pouch.3.Hold the dropper vertically and transfer 3 full drops (approx. 100ml) of urine to the specimen well of the test cassette, and then begin timing. See the illustration below.
3.Wait for colored lines to appear. Interpret the test results at 3-5 minutes. Do not read results after 10 minutes.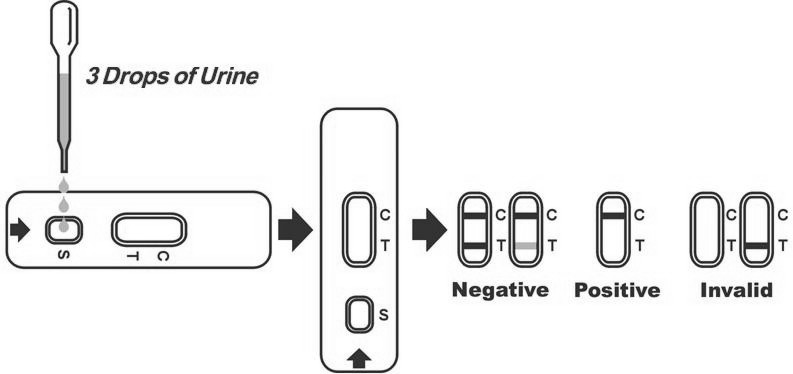 Negative: *Two lines appear. One red line should be in the control region (C), and another apparent red or pink line adjacent should be in the test region (T). This negative result indicates that the drug concentration is below the detectable level.
 *NOTE: The shade of red in the test line region (T) will vary, but it should be considered negative whenever there is even a faint pink line.
Positive: One red line appears in the control region (C). No line appears in the test region (T). This positive result indicates that the drug concentration is above the detectable level.
Invalid: Control line fails to appear. Insufficient specimen volume or incorrect procedural techniques are the most likely reasons for control line failure. Review the procedure and repeat the test using a new test panel. If the problem persists, discontinue using the lot immediately and contact your local distributor.
You may be interesting in the products information belows
TESTSEALABS Rapid Single/Multi-drug Test Dipcard/Cup is a rapid, screening test for the qualitative detection of single/multiple drugs and drug metabolites in human urine at specified cut off levels.
* Specification Types Available


√Complete 15-drug product line
√Cut-off levels meet SAMSHA standards when applicable
√Results in minutes
√Multi options formats--strip,l cassette , panel and cup 

√ Multi-drug device format
√6 drug combo( AMP,COC, MET, OPI, PCP, THC)

√ Many Different combinations available

√ Provide immediate evidence of potential adulteration
√6 Testing parameters: creatinine, nitrite, glutaraldehyde, PH, Specific gravity and oxidants/pyridinium chlorochromate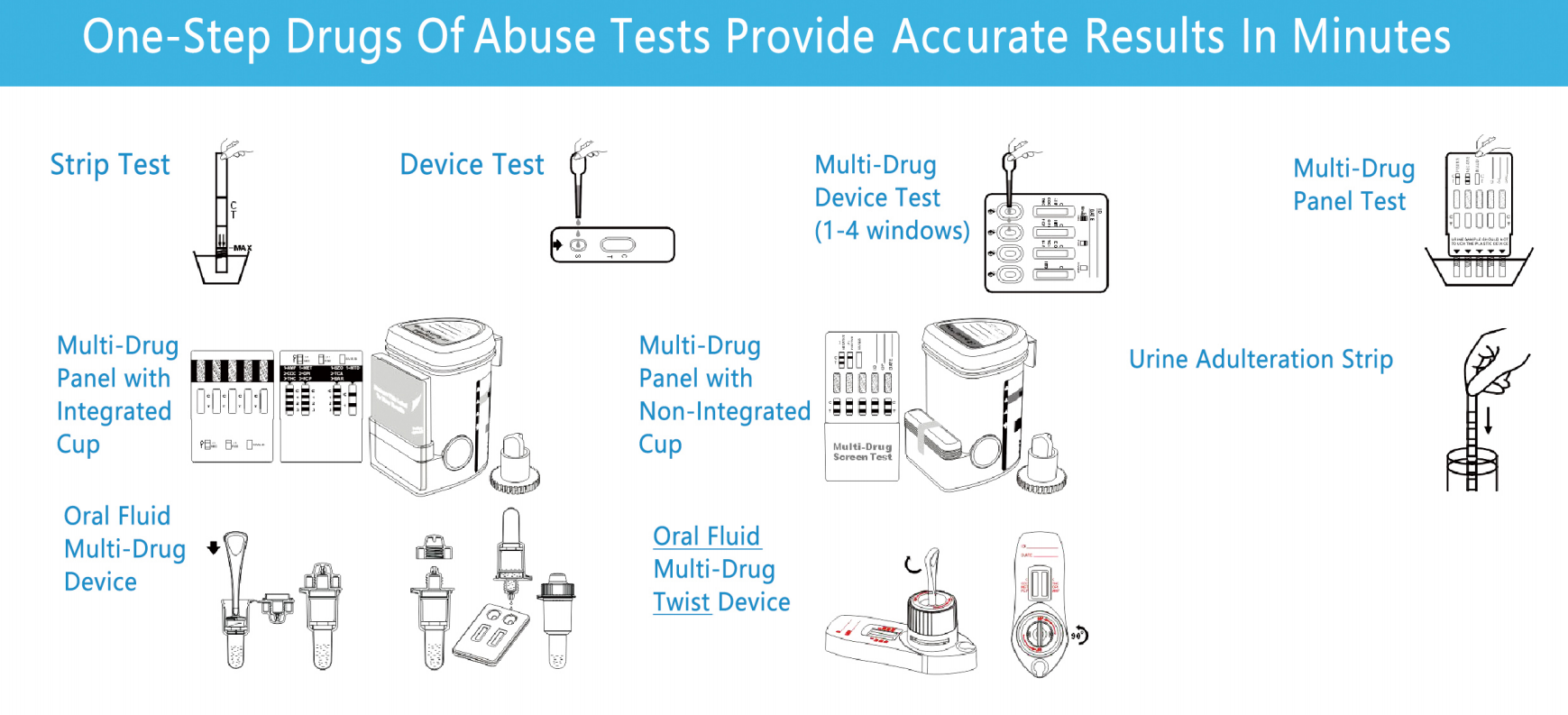 Product Name

Specimens

Formats

Cut off

Packing

AMP Amphetamine Test

Urine

Strip/Cassette/Dipcard

300/1000ng/ml

25T/40T

MOP Morphine Test

Urine

Strip/Cassette/Dipcard

300ng/ml

25T/40T

MET MET Test

Urine

Strip/Cassette/Dipcard

300/500/1000ng/ml

25T/40T

THC Marijuana Test

Urine

Strip/Cassette/Dipcard

50ng/ml

25T/40T

KET KET Test

Urine

Strip/Cassette/Dipcard

1000ng/ml

25T/40T

MDMA Ecstasy Test

Urine

Strip/Cassette/Dipcard

500ng/ml

25T/40T

COC Cocaine Test

Urine

Strip/Cassette/Dipcard

150/300ng/ml

25T/40T

BZO Benzodiazepines Test

Urine

Strip/Cassette/Dipcard

300ng/ml

25T/40T

K2 Synthetic Cannabis Test

Urine

Strip/Cassette/Dipcard

200ng/ml

25T/40T

BAR Barbiturates Test

Urine

Strip/Cassette/Dipcard

300ng/ml

25T/40T

BUP Buprenorphine Test

Urine

Strip/Cassette/Dipcard

10ng/ml

25T/40T

COT Cotinine Test

Urine

Strip/Cassette/Dipcard

50ng/ml

25T/40T

EDDP Methaqualone Test

Urine

Strip/Cassette/Dipcard

100ng/ml

25T/40T

FYL Fentanyl Test

Urine

Strip/Cassette/Dipcard

200ng/ml

25T/40T

MTD Methadone Test

Urine

Strip/Cassette/Dipcard

300ng/ml

25T/40T

OPI Opiate Test

Urine

Strip/Cassette/Dipcard

2000ng/ml

25T/40T

OXY Oxycodone Test

Urine

Strip/Cassette/Dipcard

100ng/ml

25T/40T

PCP Phencyclidine Test

Urine

Strip/Cassette/Dipcard

25ng/ml

25T/40T

TCA Tricyclic Antidepressants Test

Urine

Strip/Cassette/Dipcard

100/300ng/ml

25T/40T

TRA Tramadol Test

Urine

Strip/Cassette/Dipcard

100/300ng/ml

25T/40T

Multi-Drug Single-Line Panel

Urine

2-14 Drugs

See Insert

25T

Multi-Drug Device

Urine

2-14 Drugs

See Insert

25T

Drug Test Cup

Urine

2-14 Drugs

See Insert

1T

Oral-Fluid Multi-Drug Device

Saliva

     6 Drugs

See Insert

25T

Urine Adulteration

Strips(Creatinine/Nitrite/Glutaraldehyde/PH/Specific Gravity/Oxidant

Urine

 6 Parameter Strip

See Insert

25T
---
---
Send your message to us:
Write your message here and send it to us