SARS-CoV-2 Neutralizing antibody Test Cassette
Product Detail
Product Tags
For the qualitative assessment of Coronavirus Disease 2019 (2019-nCOV or COVID -19) neutralizing antibody in human serum/plasma/whole blood.
For professional In Vitro Diagnostic Use Only
 【INTENDED USE】
The SARS-CoV-2 Neutralizing antibody Test Cassette is a rapid chromatographic
immunoassay for the qualitative detection of neutralizing antibody of Coronavirus Disease 2019 in human whole blood,serum,or plasma as an aid in the Evaluation levels of human anti-novel coronavirus neutralizing antibody titer.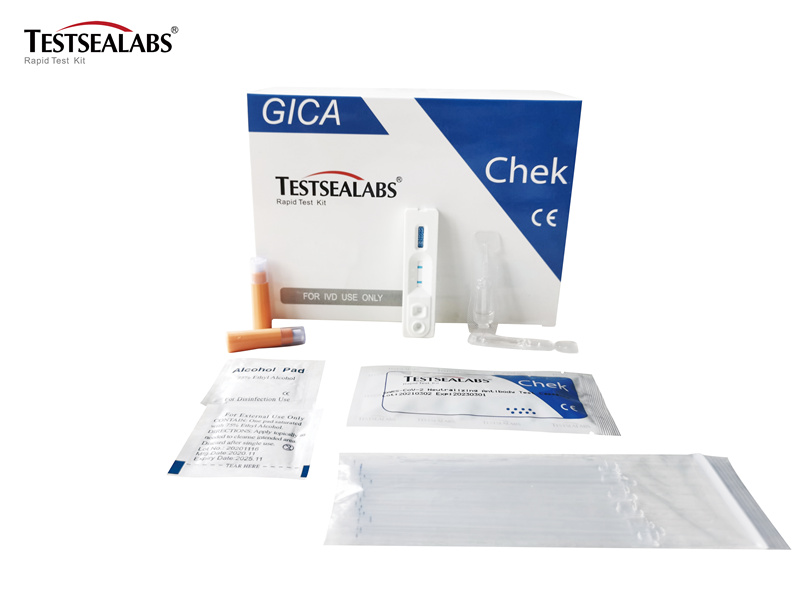 mammals.The genus γ mainly causes bird infections.CoV is mainly transmitted through direct contact with secretions or through aerosols and droplets. There is also evidence that it can be transmitted through the fecal-oral route.
Severe acute respiratory syndrome coronavirus 2 (SARS-CoV-2, or 2019-nCoV) is an enveloped non-segmented positive-sense RNA virus. It is the cause of coronavirus disease 2019 (COVID- 19), which is contagious in humans.
SARS-CoV-2 has several structural proteins including spike (S), envelope (E), membrane (M) and nucleocapsid (N). The spike protein (S) contains a receptor binding domain (RBD), which is responsible for recognizing the cell surface receptor, angiotensin converting enzyme-2  (ACE2). It is found that the RBD of the SARS-CoV-2 S protein strongly interacts with the human ACE2 receptor leading to endocytosis into the host cells of the deep lung and viral replication.
Infection with the SARS-CoV-2 initiates an immune response, which includes the production of antibodies in the blood. The secreted antibodies provide protection against future infections from viruses, because they remain in the circulatory system for months to years after infection and will bind quickly and strongly to the pathogen to block cellular infiltration and replication. These antibodies are named neutralizing antibodies.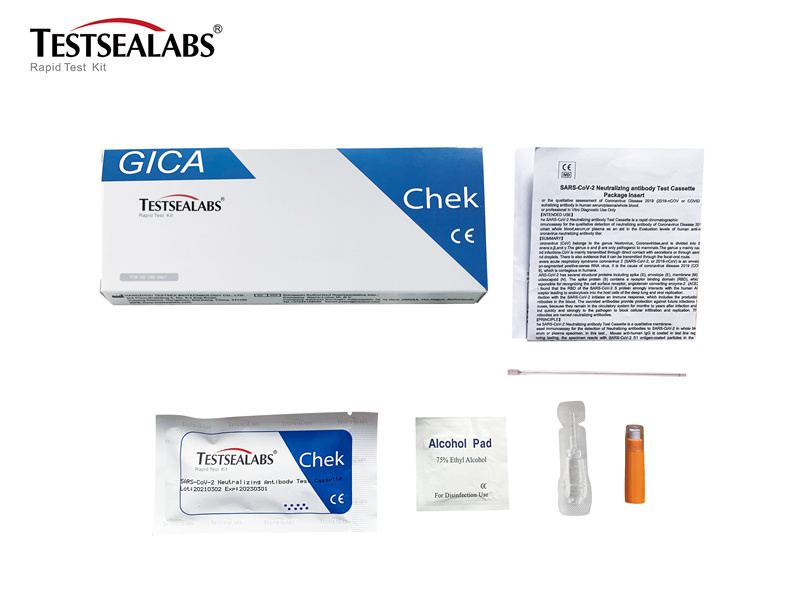 【 SPECIMEN COLLECTION AND PREPARATION 】
1.The SARS-CoV-2 Neutralizing antibody Test Cassette is intended for use with human wholeblood, serum or plasma specimens only.
2.Only clear, non-hemolyzed specimens are recommended for use with this test. Serum or plasma should be separated as soon as possible to avoid hemolysis.
3.Perform testing immediately after specimen collection. Do not leave specimens at room temperature for prolonged periods. Serum and plasma specimens may be stored at 2-8°C for up to 3 days. For long term storage, serum or plasma specimens should be kept below-20°C.Whole blood collected by venipuncture should be stored at 2-8°C if the test is to be run within 2 days after collection.Do not freeze whole blood specimens. Whole blood collected by fingerstick should be tested immediately.
4.Containers containing anticoagulants such as EDTA,citrate,or heparin should be used for whole blood storage.Bring specimens to room temperature prior to testing.
5.Frozen specimens must be completely thawed and mixed well prior to testing.Avoid repeated freezing
and thawing of specimens.
6.If specimens are to be shipped, pack them in compliance with all applicable regulations for transportation
 of etiological agents.
7.Icteric,lipemic,hemolyzed,heat treated and contaminated sera may cause erroneous results.
8.When collecting finger stick blood with a lancet and alcohol pad,Please discard the first drop of
whole blood.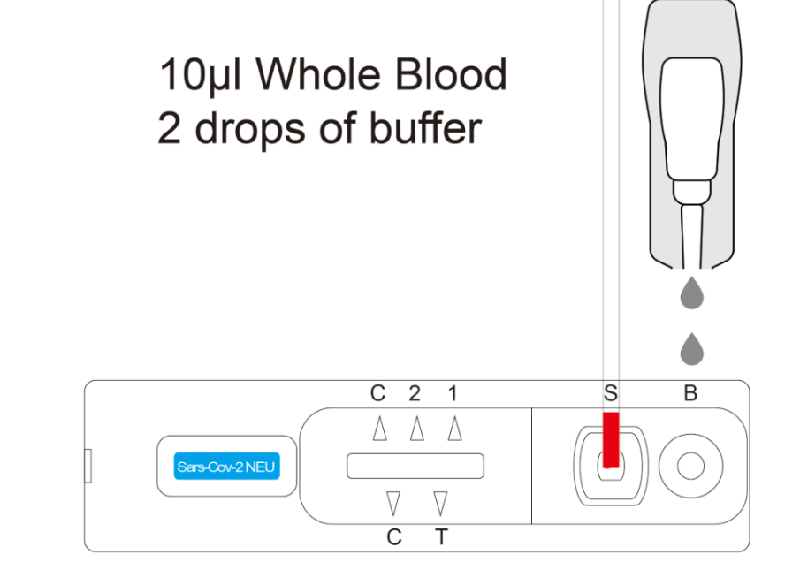 1. Bring the pouch to room temperature before opening.Remove the test device from the sealed pouch and use it as soon as possible.
2. Place the test device on a clean and level surface.
For Serum or Plasma Specimens: Using the Micropipette,and transfer 5ul serum/plasma to the specimen well of the test device,then add 2 drop of buffer,and start the timer.  
For Whole Blood (Venipuncture/Fingerstick) Specimens: Prick your finger and gently squeeze your finger, use the provided disposable plastic pipette to suck 10ul of whole blood to the 10ul line of the disposable plastic pipette, and transfer it to the specimen hole of the test device (if the whole blood volume exceeds the mark, Please release the excess whole blood in the pipette),then add 2 drop of buffer, and start the timer. Note: Specimens can also be applied using a micropipette.
3. Wait for the colored line(s) to appear.Read results at 15 minutes.Do not interpret the result after 20 minutes.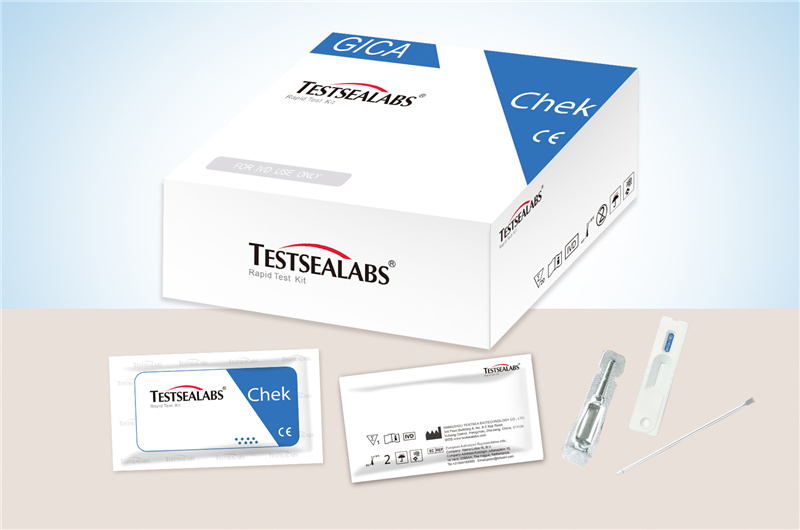 ---
---
Send your message to us:
Write your message here and send it to us