Testsealabs Covid-19 Antigen Home Test Self-Test Kit
Product Detail
Product Tags
Testsealabs  COVID-19 Antigen Home Test is authorized for non-prescription home use with self-collected anterior nasal (nares) swab samples from individuals aged 14 years or older with symptoms of COVID-19 within the first 7 days of symptom onset. This test is also authorized for non-prescription home use with adult-collected nasal (nares) swab samples from individuals aged 2 years or older with symptoms of COVID-19 within the first 7 days of symptom onset. This test is also authorized for non-prescription home use with self-collected anterior nasal (nares) swab samples from individuals aged 14 years or older, or adult-collected anterior nasal (nares) swab samples from individuals aged 2 years or older, with or without symptoms or other epidemiological reasons to suspect COVID-19 when tested twice over three days with at least 24 hours (and no more than 48 hours) between test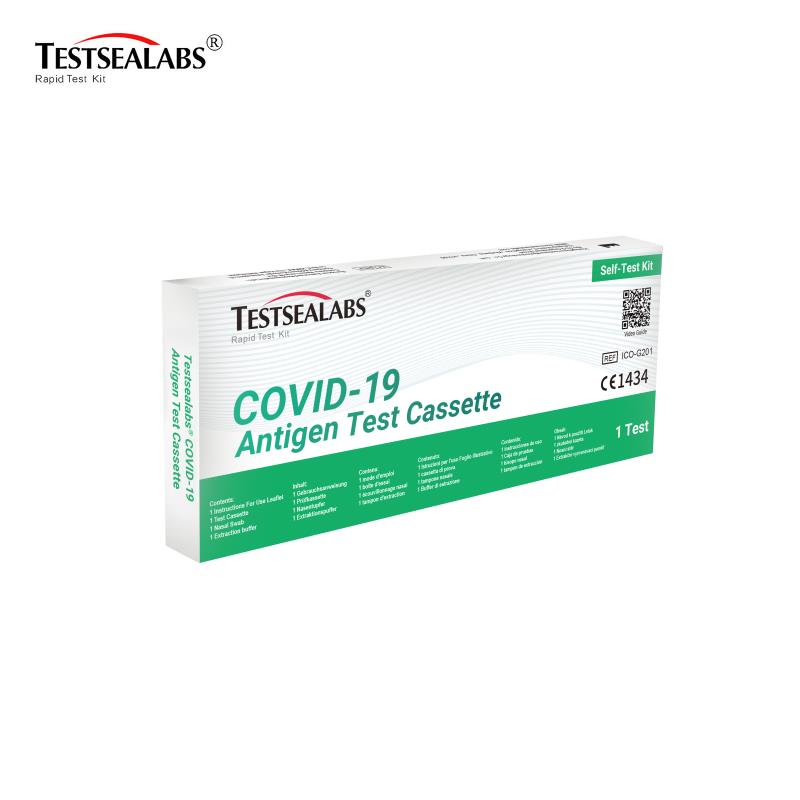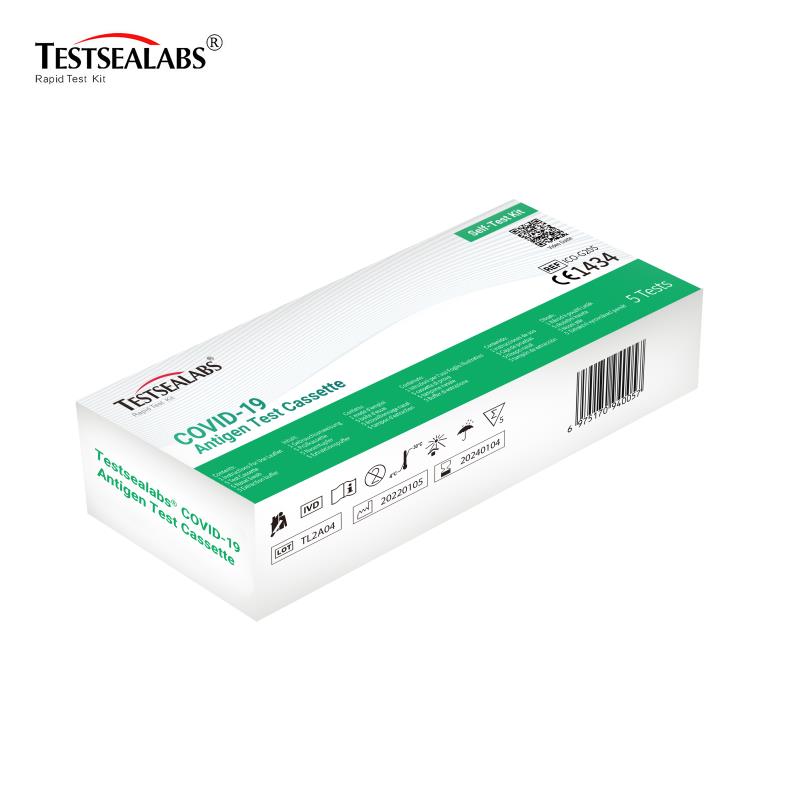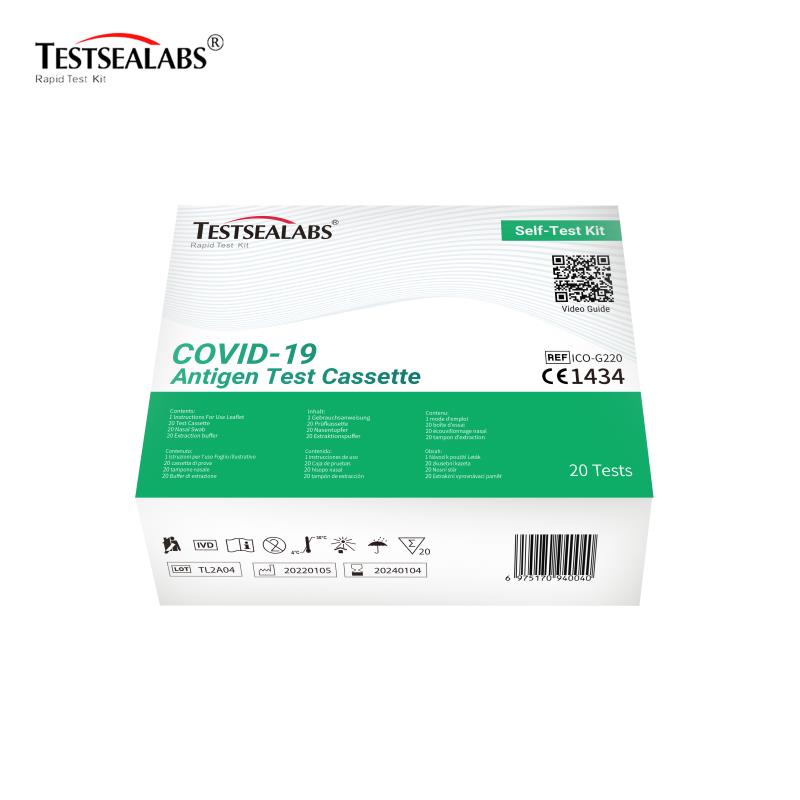 Fast and easy to self-test at anywhere

Easy to interpret the results using mobile application

Qualitatively detect the SARS-CoV-2 nucleocapsid protein

Use for nasal swab specimen

Fast results only in 10 minutes

Identify individual's current infection status to COVID-19
Materials provided: 
| | | | |
| --- | --- | --- | --- |
| Specification | 1T | 5T | 20T |
| Test Cassette | 1 | 5 | 20 |
| Nasal Swab | 1 | 5 | 20 |
| Prepackaged extraction buffer | 1 | 5 | 20 |
| Package Insert | 1 | 1 | 1 |
| Tube stand Workbench | / | / | 1 |
Workbench for 1 Pcs and 5 pcs on the back of the box
Detail view - Test cassette
① Open the packaging. You should have the test cassette 、Prepackaged extraction buffer 、 the nasal swab and package insert in front of you.
② Peel the foil sea from the top pf the extraction tube containing the extraction buffer
③Open the swab on the side of the swab tip, carefully remove the swab without touching the tip.
④Now take the same nasal swab and insert it into the other nastril, swab the inside of the nostril in a circular motion 5 times for at least 15 seconds, please perform the test directly with the sample and do not leave it standing.
5.Place the nasal swab into the tube filled with extraction buffer .Rotate the swab for at least 30 seconds while pressing the swab tip against the inside of the tube,to release the antigen in the swab.
6.Press the swab tip against the inside of the tube. Try to release as much liquid as possible from the swab.
7.Put the cap tightly back on the tube to avoid any leaks Place 3 drops of sample from the top into the sample well of the test Cassette. The sample well is the round recess at the bottom of the the test Cassette and is marked with an "S".
8.Start the stopwatch and wait 15 minutes before reading, even if the control line becomes visible before. Before that, the result may not be correct.

You can refer to Instuction Video:
ININTERPRETATION OF RESULTS

Positive: Two lines appear. One line should always appear in the control line region(C), and another one apparent colored line should appear in the test line region.
Negative: One colored line appear in the control region(C).No apparent colored line appear in the test line region.
Invalid: Control line fail to appear. Insufficient specimen volume or incorrect procedural techniques are the most likely reasons for control line failure.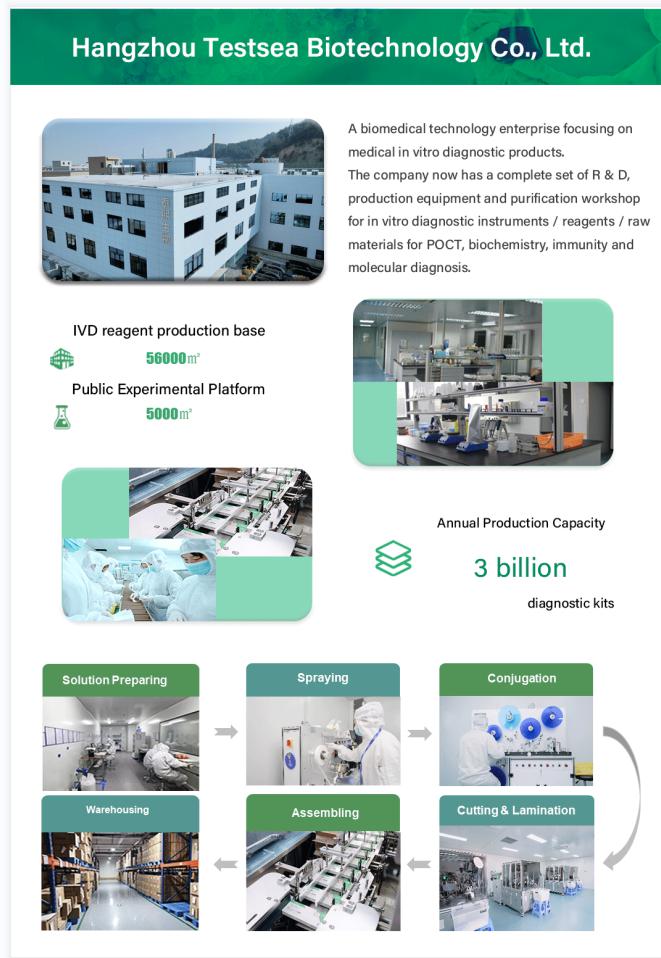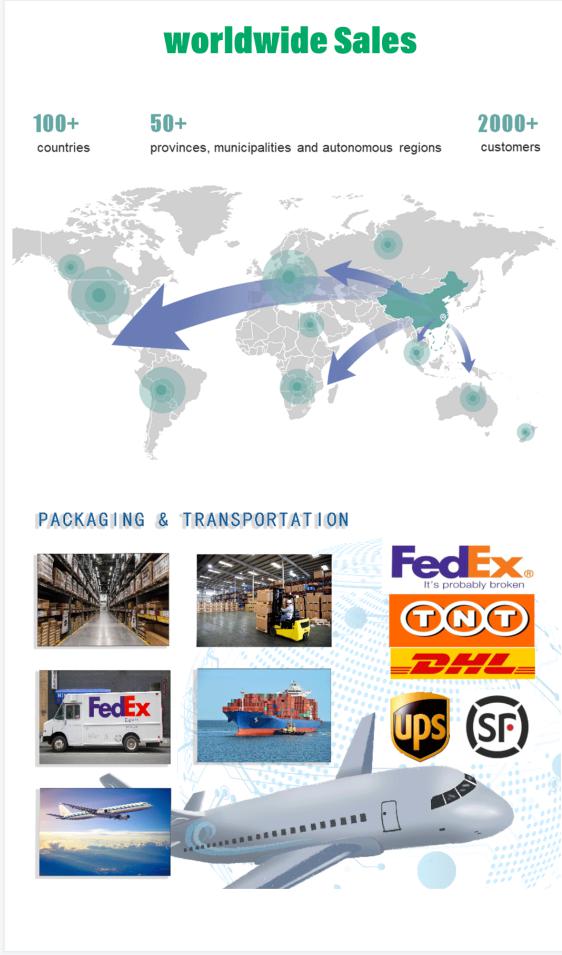 ---
---
Send your message to us:
Write your message here and send it to us