JAMACH'S COVID-19 Rapid Antigen Test–ARTG385429
Product Detail
Product Tags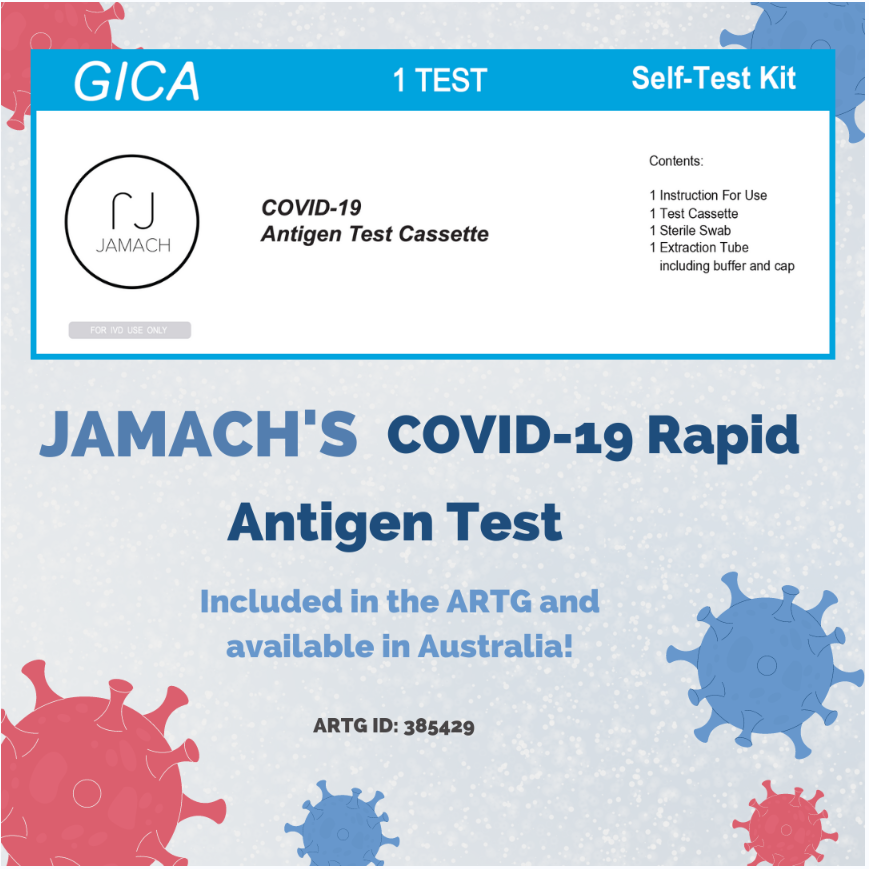 The JAMACH'S COVID Antigen Test Cassette manufactured by Hangzhou Testsea Biotechnology Co.,Ltd is a rapid test for the qualitative detection of SARS-Cov-2 nucleocapid antigen in anterior human nasal swab specimens collected directly from individuals suspected of COVID 19. It is used to aid in the diagnosis of SARS-CoV-2 infection that may lead to COVID-19 disease. The test is single use only and intended for self-testing. Recommended for symptomatic individuals only. It is recommended to use this test within 7 days of symptom onset. It is supported by the clinical performance assessment. It is recommended that the self test is used by persons 18 years and over and that individuals under 18 years should be assisted by an adult. Do not use the test on children under the age of 2.
Assay type

 

Lateral flow PC test

 

Test type

 

Qualitative

 

Test material

 

Nasal Swab-

Test duration

 

5-15 Mins

 

Pack size

 

1 test/box, 5 tests/box ,20 tests/box

Storage temperature

 

4-30℃

 

Shelf life

 

2 years

 

Sensitivity

 

97%(84.1%-99.9%)

Specificity

 

98%(88.4%-100 %))

 

Limit of detection

50TCID50/ml
INREAGENTS AND MATERIALS PROVIDED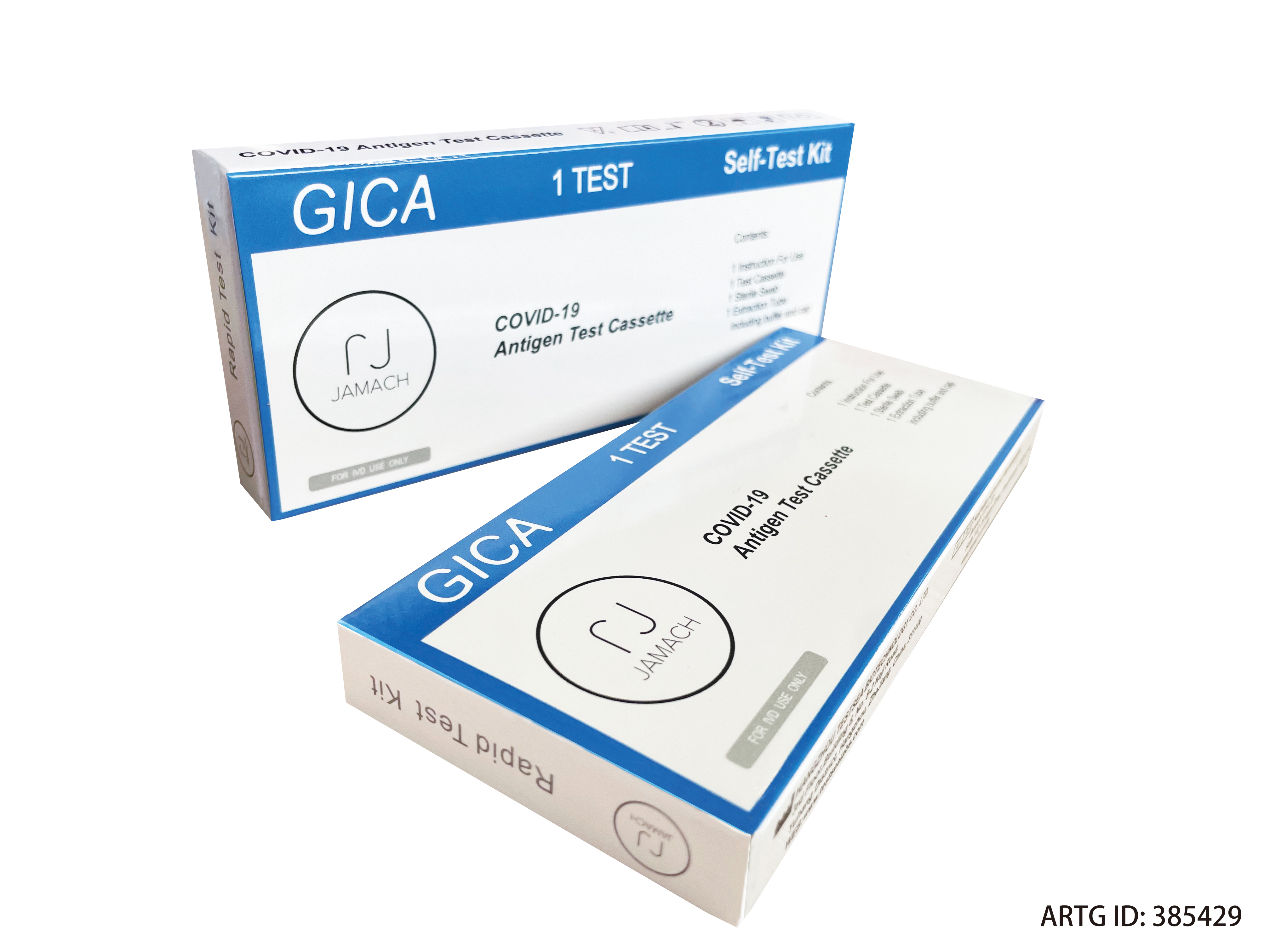 | | |
| --- | --- |
| 1 Test/Box | 1 Test Cassette, 1 Sterile Swab, 1 Extraction Tube with Buffer and Cap, 1 Instruction use |
| 5 Test/Box | 5 Test Cassette, 5 Sterile Swab, 5 Extraction Tube with Buffer and Cap, 5 Instruction use |
| 20 Test/Box | 20 Test Cassette, 20 Sterile Swab, 20 Extraction Tube with Buffer and Cap, 4 Instruction use |
① Wash your hands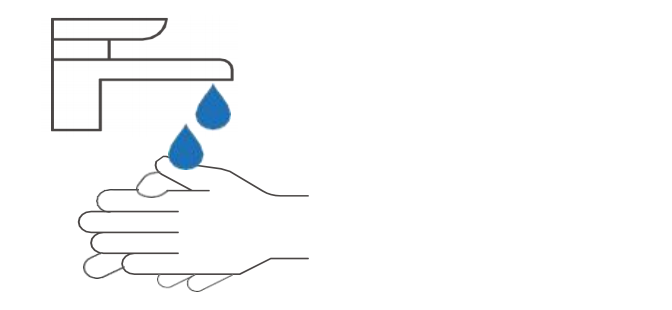 ②Check the kit contents before testing



③Check the expiry found on the cassette foil pouch and remove the cassette from the pouch.


④ Remove foil from extraction tube that contains buffer liquid and Place into the hole on back of box.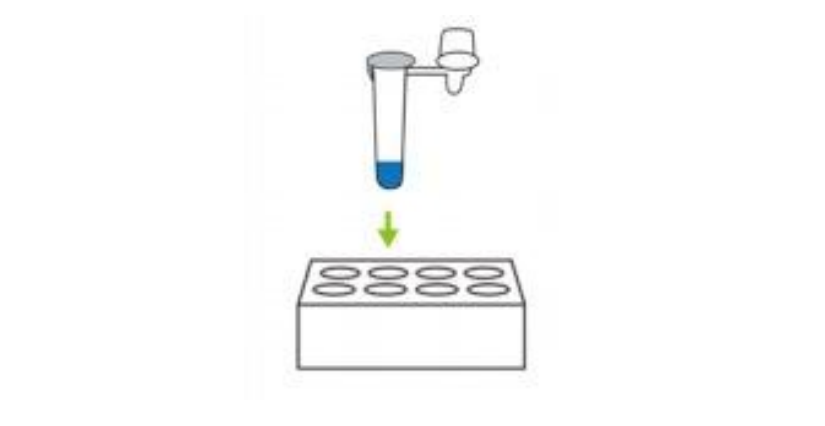 ⑤Carefully remove the swab without touching the tip. Insert the entire tip of the swab, 2 to 3 cm into a nostril, Carefully remove the swab without touching the tip. Rub the inside of the nostril in circular movements 5 times for at least 15 seconds,Now take the same nasal swab and insert it into the other nostril and repeat.


⑥Place the swab in the extraction tube. Rotate the swab for about 10 seconds and stir 10 times while pressing the swab against the inside of the tube to squeese out as much liquid as possible.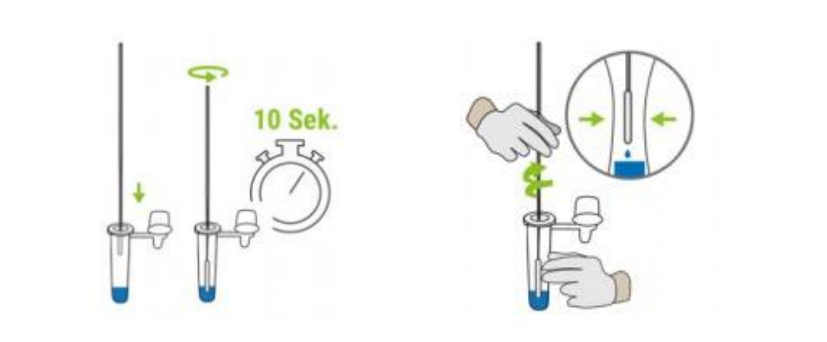 ⑦ Close the extraction tube with the provided cap.



⑧Mix thoroughly by flicking the bottom of the tube. Place 3 drops of the sample vertically into the sample window of the test cassette. Read the result after 10-15 minutes. Note: The result must be read within 20 minutes, otherwise, a repeat test is recommended.



⑨ Carefully wrap the used test kit components and swab samples, and place into a waste bag prior to disposal into a household waste.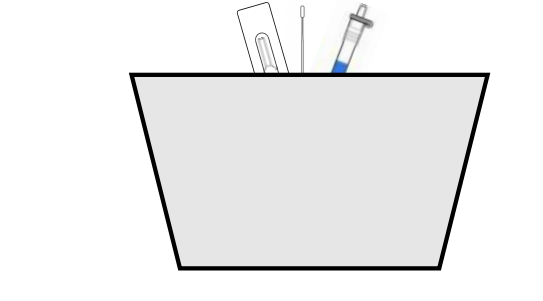 You can refer to this instruction Use Vedio:
ININTERPRETATION OF RESULTS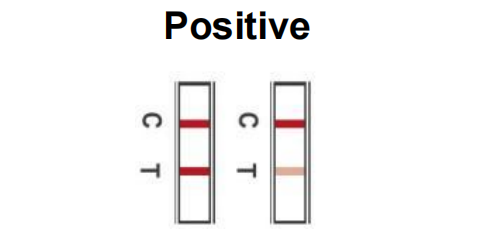 Two coloured lines will appear. One in the control region (C) and one in the test region (T). NOTE: the test is considered positive as soon as even a faint line appears. Positive result means that SARS-CoV-2 antigens were detected in your sample, and you're likely to be infected and presumed to be contagious. Refer to your relevant health authority for advice on whether a PCR test is
required to confirm your result.

One colored line appears in the control region (C). No apparent colored line appears in the test region (T). This means that no SARS-CoV-2 antigen was detected and you are unlikely to have COVID-19. Continue to follow all local
guidelines and measures when in contact with others as you may be infected. If symptoms continue repeat the test after 1-2 days as SARS-Cov-2 antigen cannot be precisely detected in all phases of an infection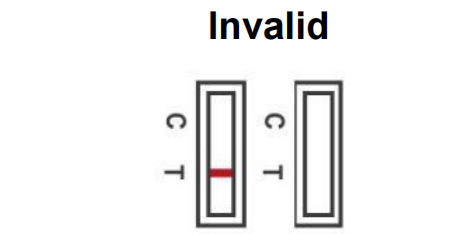 No coloured lines appear in the control region (C). The test is invalid even if there is no line in the test region (T). Invalid result indicates that your test has experienced an error and is unable to interpret the result of the test. Insufficient sample volume or incorrect handling are the most likely reasons for this. You will need to re-test with a new Rapid Antigen Test Kit. If you still have symptoms you should self isolate at home and avoid contact with others
prior to the re-test.
Australian Authorised Representative:
Jamach PTY LTD
Suite 102, 25 Angas St, Meadowbank, NSW, 2114, Australia
www.jamach.com.au/product/rat
hello@jamach.com.au
---
---
Send your message to us:
Write your message here and send it to us