SARS-CoV-2 Neutralizing Antibody Detection Kit (ELISA)
Product Detail
Product Tags
【INTENDED USE】
SARS-CoV-2 Neutralizing Antibody Detection Kit is a Competitive Enzyme-Linked Immunosorbent Assay (ELISA) intended for qualitative and semi-quantitative detection of total neutralizing antibodies to SARS-CoV-2 in human serum and plasma. The SARS- CoV-2 Neutralizing Antibody Detection Kit can be used as an aid in identifying individuals with an adaptive immune response to SARS- CoV-2, indicating recent or prior infection. The SARS-CoV-2 Neutralizing Antibody Detection Kit should not be used to diagnose acute SARS-CoV-2 infection.
【INTRODUCTION】
Coronavirus infections typically induce neutralizing antibody responses. The seroconversion rates in COVID-19 patients are 50% and 100% on day 7 and 14 post symptom onset, respectively. To present knowledge, corresponding virus neutralizing antibody in blood is a recognized as a target for determining antibody efficacy and higher concentration of the neutralizing antibody indicate higher protection efficacy. Plaque Reduction Neutralization Test (PRNT) has been being recognized as the gold standard for detecting neutralizing antibodies. However, due to its low throughput and higher requirement for operation, PRNT is not practical for large scale serodiagnosis and vaccine evaluation. The SARS-CoV-2 Neutralizing Antibody Detection Kit is based on Competitive Enzyme-Linked Immunosorbent Assay (ELISA) methodology, which can detect the neutralizing antibody in blood sample as well as specially access the concentration levels of this type of antibody.
 【Test Procedure】
1.In separate tubes, aliquot 120μL of the prepared hACE2-HRP Solution.
2.Add 6 μL of calibrators, unknown samples, quality controls in each tube and mix well.
3.Transfer 100μL of each mixture prepared in the step 2 into corresponding microplate wells according to predesigned test configuration.
3.Cover the plate with Plate Sealer and incubate at 37°C for 60 minutes.
4.Remove the Plate Sealer and wash the plate with approximate 300 μL of 1× Wash Solution per well for four times.
5.Tap the plate on paper towel to remove residual liquid in the wells after washing steps.
6.Add 100 μL of TMB Solution to each well and incubate the plate in dark at 20 – 25°C for 20 minutes.
7.Add 50 μL of Stop Solution to each well to stop the reaction.
8.Read the absorbance in microplate reader at 450 nm within 10 minutes (630nm as accessory is recommended for higher precision performance.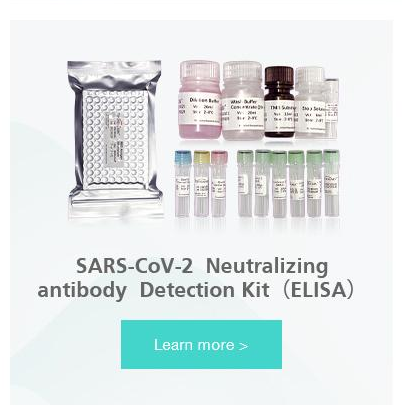 ---
---
Send your message to us:
Write your message here and send it to us