SARS-CoV-2 Neutralizing Antibody Detection Kit (ELISA)
Product Detail
Product Tags
【PRINCIPLE】
The SARS-CoV-2 Neutralizing Antibody Detection Kit is based on competitive ELISA methodology.
Using purified receptor binding domain (RBD), protein from the viral spike (S) protein and the host cell
receptor ACE2, this test is designed to mimic the virus-host neutralizing interaction.
Calibrators, Quality Controls, and serum or plasma samples are individually mixed well in dilution
buffer containing hACE2-HRP conjugate aliquoted in small tubes. Then the mixtures are transferred in
the microplate wells containing immobilized recombinant SARS-CoV-2 RBD fragment (RBD)for
incubation. During the 30-minute incubation, the RBD specific antibody in the calibrators, QC and
samples will compete with the hACE2-HRP for specific binding the RBD immobilized in the wells. After
the incubation, the wells are washed 4 times to remove unbound hACE2-HRP conjugate. A solution of
TMB is then added and incubated for 20 minutes at room temperature, resulting in the development of a
blue color. The color development is stopped with the addition of 1N HCl, and the absorbance is
measured spectrophotometrically at 450 nm. The intensity of the color formed is proportional to the
amount of enzyme present, and is inversely related to the amount of standards assayed in the same way.
Through comparison with the calibration curve formed by the provided calibrators, the concentration of
neutralizing antibodies in the unknown sample is then calculated.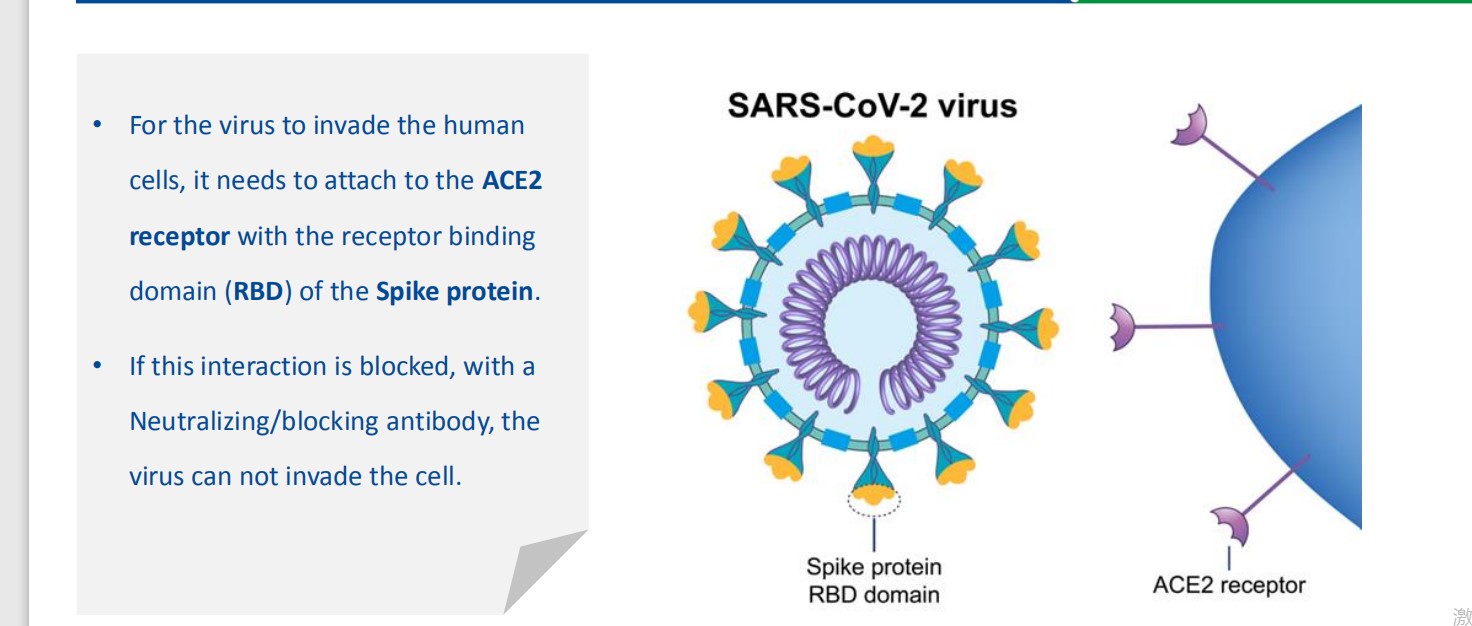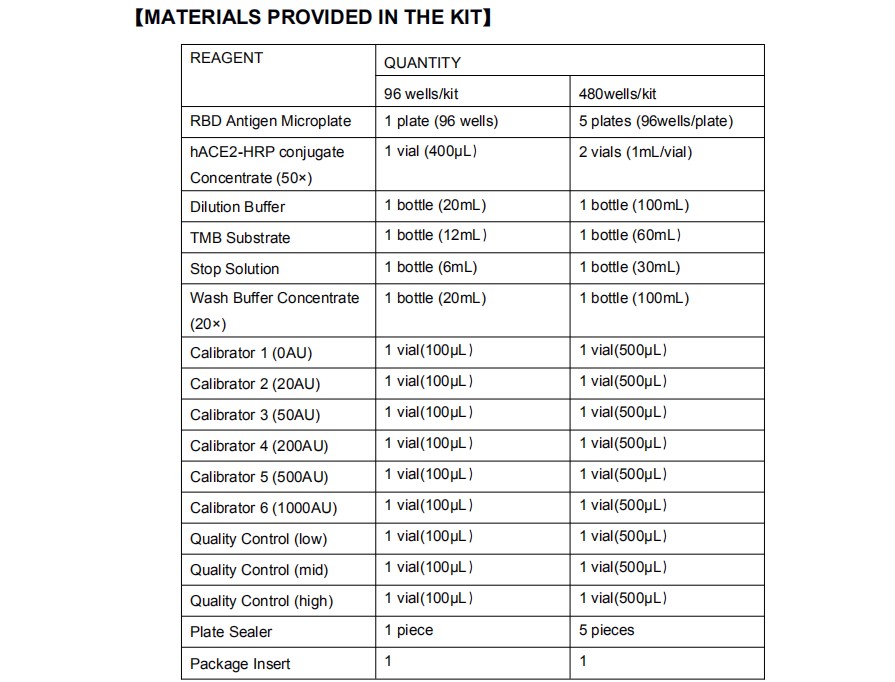 【MATERIALS REQUIRED BUT NOT PROVIDED】
1. Distilled or deionized water
2. Precision pipettes: 10μL, 100μL,200μL and 1 mL
3. Disposable pipette tips
4. Microplate reader capable of reading absorbance at 450nm.
5. Absorbent paper
6. Graph paper
7. Vortex mixer or equivalent
【SPECIMEN COLLECTION AND STORAGE】
1. Serum and Plasma samples collected in tubes containing K2-EDTA can be used for this kit.
2. Specimens should be capped and may be stored for up to 48 hours at 2 °C - 8 °C prior to assaying.
Specimens held for a longer time (up to 6 months) should be frozen only once at -20 °C prior to assay.
Avoid repeated freeze-thaw cycles.
PROTOCOL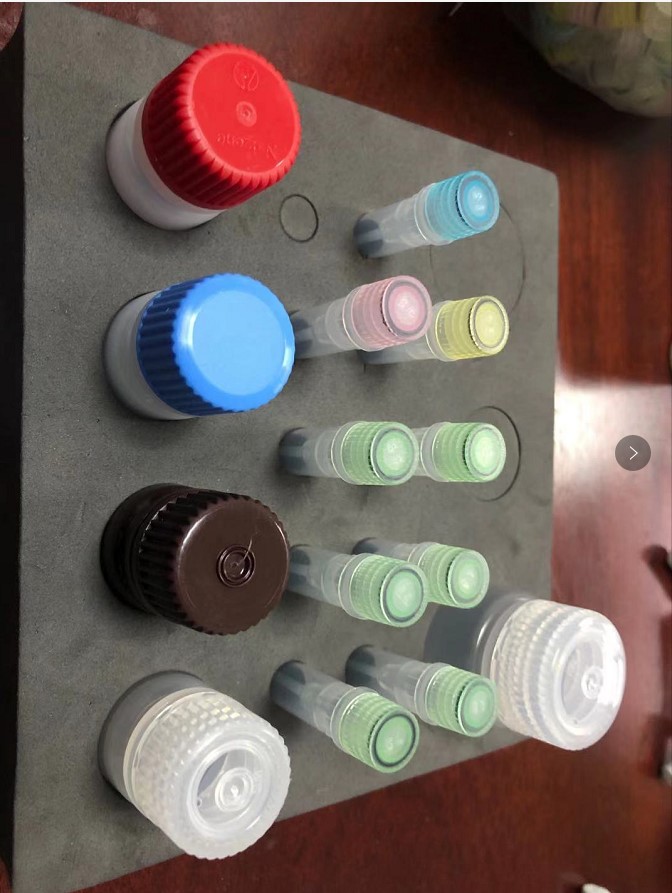 【Reagent Preparation】
1. All reagents must be taken out from refrigeration and allowed to return to room temperature before use
(20° to 25°C). Save all reagents in refrigerator promptly after use.
2. All samples and controls should be vortexed before use.
3. hACE2-HRP Solution Preparation: Dilute hACE2-HRP concentrate at 1: 51 dilution ratio with Dilution
Buffer. For example, dilute 100 μL of hACE2-HRP concentrate with 5.0mL of HRP Dilution Buffer to
make a hACE2-HRP solution.
4. 1× Wash Solution Preparation: Dilute the 20× Wash Solution with deionized or distilled water with a
volume ratio of 1:19. For example, dilute 20 mL of 20× Wash Solution with 380 mL of deionized or
distilled water to make 400 mL of 1× Wash Solution.
【Test Procedure】
1. In separate tubes, aliquot 120μL of the prepared hACE2-HRP Solution.
2. Add 6 μL of calibrators, unknown samples, quality controls in each tube and mix well.
3. Transfer 100μL of each mixture prepared in the step 2 into corresponding microplate wells according
to predesigned test configuration.
3. Cover the plate with Plate Sealer and incubate at 37°C for 30 minutes.
4. Remove the Plate Sealer and wash the plate with approximately 300 μL of 1× Wash Solution per wellfor four times.
5. Tap the plate on paper towel to remove residual liquid in the wells after washing steps.
6. Add 100 μL of TMB Solution to each well and incubate the plate in dark at 20 - 25°C for 20 minutes.
7. Add 50 μL of Stop Solution to each well to stop the reaction.
8. Read the absorbance in microplate reader at 450 nm within 10 minutes (630nm as accessory is
recommended for higher precision performance).
---
Next:
OEM Manufacturer China Medomics Infectious C-O-V-I-N-G Virus Neutralization Antibody Testing Kit W/CE Mark & Whitelist
---
Send your message to us:
Write your message here and send it to us